H.E President Paul Kagame Visits the Botanical Garden
H.E President Paul Kagame Visits the Botanical Garden
30th June 2023
SPGA was on Thurdsay 29th June honoured in hosting H.E. President Paul Kagame of Rwanda to the National Botanical Garden.
President Kagame planted a Coco de Mer seedling in the Garden, accompanied by Board of Directors Chairman Mr. Lucas D'offay, CEO Mr. Cedras, DCEO Ms. Docteur and the Minister responsible for Foreign Affairs and Tourism, Mr. Sylvestre Radegonde. Mr. Kagame joins the growing list of dignitaries who have since planted Coco de Mer seedlings within the Garden
On Wednesday 28th June, the First Lady of the Republic of Rwanda, Mrs. Jeanette Kagame who was accompanying H.E on his visit, similarly planted a "Lantanyen Oban" at the Family House, Bel Eau, alongside the First Lady of Seychelles Mrs. Linda Ramkalawan and Mrs. Marie-Celine Zialor, Minister responsible for Family, Sports and Youth.
Image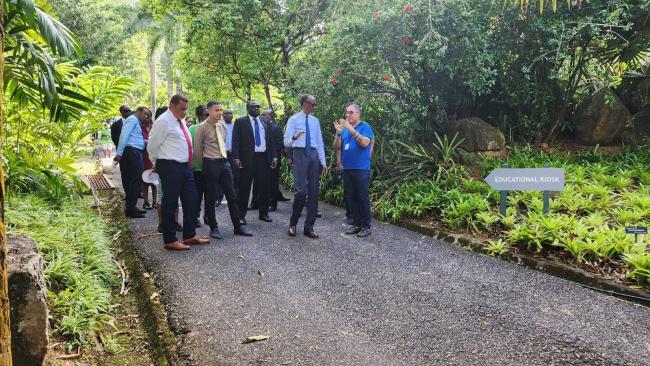 Image