Image

Introduction
---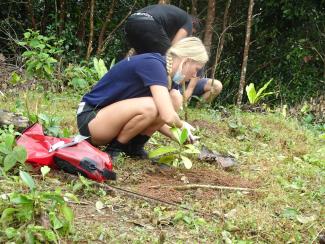 Forest is the second largest storehouse of carbon aside from oceans. Through their biomass, soils and wood products they can store up to 30 percent. The "Green Footprint Seychelles" is a project initiated in 2020 that aspires to give long haul travelers the opportunity to offset
their carbon footprint of their flight to Seychelles in effort to combat climate change in the long haul. 
The tree planting activity will take place every 2 months for the year 2023.  To help make a difference please register on the right for a chance to contribute towards a sustainable Seychelles. 
Please note that the following terms and conditions apply:
---
Terms & Conditions for the Green Footprint Seychelles Project 
Once payment to participate have been made and clients cannot participate in the activity, there will be no refund, but clients can choose to participate on another date or transfer their payment to another participant by informing SPGA in advance.
SPGA will provide water, gloves and necessary tools for the activity.
SPGA has taken all precautions to ensure the safety of participants and it will not be held liable for any injury or accident which might occur while out in the field. So, participants are advised to be cautious while participating.
Each tree planting activity will be held every two months with a 200-seedling capacity. If Event is fully booked the participant will have to reschedule. 
---
Payment Details:
Participants will have to pay a fee of 50SCR per seedling for the tree planting activity. All payment will be made via Visa/Cash at the SPGA Head-Office 1 week before the chosen scheduled activity. 
---
For more information, please contact
Geraldine Joubert
(Communication, Events and customer care officer)
+248 2725057
Sheril De Comarmond
(Research Scientist) 
+248 2828576