SPGA'S INTERNSHIP PROGRAM IS OFF TO A GOOD START
SPGA'S INTERNSHIP PROGRAM IS OFF TO A GOOD START
12th January 2023
Late last year, the Seychelles Parks and Gardens Authority(SPGA), welcomed its first-ever international intern, Ms. Evane Antoine hailing from La Reunion as part of the Authority's newly developed Intern Program. With a keen and eager attitude, Ms. Antoine was attached to one of SPGA's busiest sites, the Curieuse Marine Park. At the dear age of 19, Evane who is currently pursuing her studies in Nature Management and Protection, had reached out to the SPGA management in order to undertake the internship of a lifetime. As the Authority continues to reach for greater heights and break barriers in the field of conservation and nature management, it was undoubtedly a fitting opportunity to host Ms. Antoine.
We were able to catch up with Evane shortly after her departure to gather some insight on her unforgettable experience with the SPGA team.
Why choose the Seychelles Parks and Gardens Authority and Seychelles?
I wanted to use my internship as an opportunity to discover the nature and culture of another island in the Indian Ocean. I had heard of Seychelles' natural beauty and discovered that it counts 2 UNESCO sites and 8 National Parks. The presence of these highly protected areas proved the natural richness of the country and encouraged me to further my research for an internship here.
Image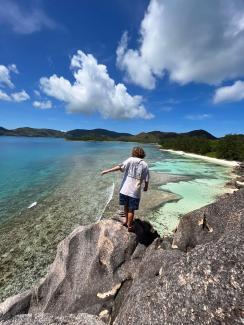 What has been some the tasks which you have participated in?
My main duties involved helping out with the Turtle Monitoring Program on the island. I would go on daily patrols on the nesting beaches and record the tracks and turtles observed. I had to measure the turtles, write down their tag number or tag them myself, and count the eggs that had been laid. I saw a total of 85 tracks and 18 turtles during these patrols!
I also worked on the Coral Restoration Project. I would dive with the team and participate in collecting coral fragments, fixing the rebars in the substrate, as well as attaching the coral pieces to these metal bars.
I also got the chance to help with the yearly mangrove monitoring, and dived for the lemon shark monitoring in order to retrieve receivers used to track these sharks, and hopped on the boat to join on the patrols as well as learn the basics of boat handling! I was never bored on Curieuse!
Image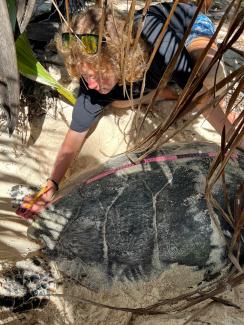 How do you think your time with SPGA has benefited you?
During my time in the Curieuse Marine National Park, I have learned so many new skills. I got the chance to get more comfortable with my diving abilities, as well as discover a new passion for boat handling! The hands-on practice allowed me to get a unique work experience, increasing my knowledge and boosting my self-confidence.
I also got the chance to better understand the local culture as well as the complexity of a Marine National Park thanks to the amazing people I met during my internship. The friendly team on the island led by Manager Anto Suzette, were very keen on teaching me creole dishes! I can now openly brag about my coconut grating improvement!
Evane shares that she found her passion and drive for protecting nature at a time when she was facing certain personal issues in her life. Discovering her love for nature only allowed her to regain her mental well-being and further pushed her to ensure that she does her part in preserving our fragile ecosystem; "With Curieuse I found a place, a work experience and people who aligned completely with who I am. I got to understand myself more, and now I long to work in marine conservation and research. My mind was completely blown away by the unique and important nature of Seychelles!".
Image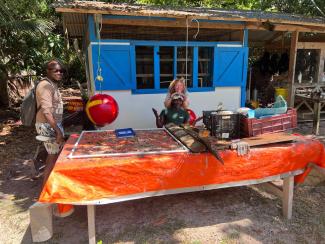 SPGA Management and team on Curieuse, could not be more pleased with the fantastic work which Evane undertook during her stay. From building great friendships, to participating in research activities and witnessing a nesting turtle for the first time, the Authority only hopes that Ms. Antoine continues on her set path, and that many more students or interns follow in her footsteps.