SPGA in Partnership with ESA Organise Workshop for Artisans
SPGA in Partnership with ESA Organise Workshop for Artisans
4th November 2022
On Wednesday 26th October over a dozen artisans (craftsmen, artists, designers) from La Digue and Praslin Island attended a full-day workshop to discuss the production of merchandise and souvenirs for the Curieuse Marine National Park. The workshop began with official remarks by Enterprise Seychelles Agency's (ESA) CEO, Miss Angelique Appoo, followed by a number of presentations by SPGA staff and business consultant.
Image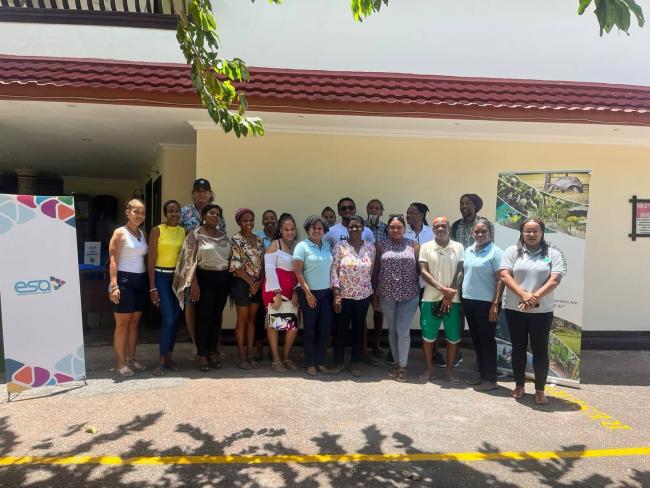 Group photo of the participants
During the presentations the participants gained insight on the Seychelles Parks and Gardens Authority and its mission in 'Ensuring that the Parks and Gardens are managed for the benefit of all', the SPGA brand and merchandising plans. The Business consultant explained costing and the economic potential of the artisanal sector. It was clear to see that the participants were very grateful and felt privileged that they were being consulted on such development and were indeed very eager to contribute their ideas.
The morning session was held at Berjaya Beach Hotel at Cote D'or Praslin and in the afternoon the enthusiastic artisans and event organisers were taken to Curieuse Island to see for themselves where the planned souvenir shop will be located.
Setting foot at Baie Laraie Curieuse, participants were quickly inspired and could immediately envision the various landmarks and features (the granite, giant tortoises) in their creations. A walk around the main area, they were shown the Coco de Mer display, the tortoise nursery, barbeque area, plant nursery and the location of the planned souvenir shop. Crossing along "Seychelles' longest boardwalk" the artisans reached the famous view point where they witnessed the island's other features such as the turtle pond and beaches from an aerial view.
Image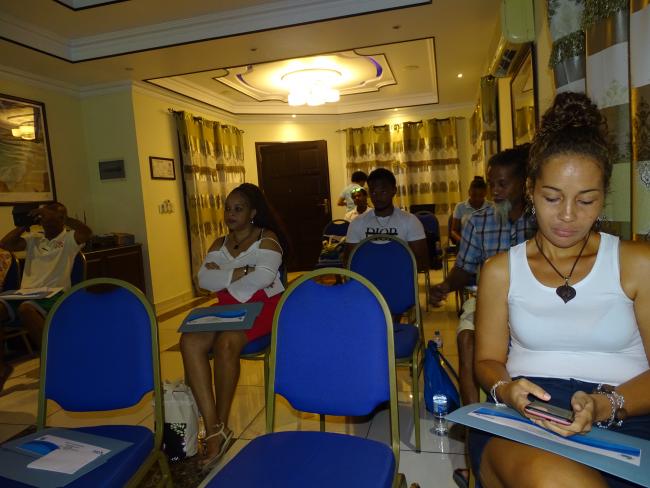 Workshop in progress
The mangrove area provided another sphere of inspiration and creativity to the artisans. It is evident that the participants have truly peaked interest in the Project, as they discussed the challenges of the industry and their plans for the future amongst themselves, hopeful that Curieuse will be another avenue for them to share their creations.
The Workshop was funded by the GOS-GEF-UNDP; "A Ridge to Reef Approach for the Integrated Management of Marine, Coastal and Terrestrial Ecosystems in the Seychelles" Project and organised by ESA and SPGA.
SPGA expresses its esteemed gratitude to the artisans and ESA for the success of the event and guarantees that all parties involved will work hard towards ensuring that they also benefit from the Curieuse Marine National Park.