SPGA Welcomes Princess Theodora Von Liechtenstein
SPGA Welcomes Princess Theodora Von Liechtenstein
24th May 2022
During the month of May, founder of the Green Teen Team Foundation, Princess Theodora Von Liechtenstein visited the Seychelles Islands for an official one-week trip, accompanied by Dr. Camillo Sandri -Zoological Director and Ms. Caterina Spiezo -Head of the Research and Conservation Department both at Parco Natura Viva Safari Park and Zoo in Italy. During the visit, H.R.H paid several visits to SPGA and its managed sites.
The Seychelles Parks and Gardens Authority (SPGA) is responsible for the marine and terrestrial national parks and gardens of Seychelles. A number of these sites have been designated since 1979, each boasting a diversity of flora and fauna, as well as unique attractions.
Founded in 2014, the Green Teen Team Foundation aims at empowering children and the youth to make positive changes to their lives and that of others. The Foundation focuses on having children engaged with nature, through the implementation of various projects and the collective efforts of schools, communities and nature-oriented organisations.
Image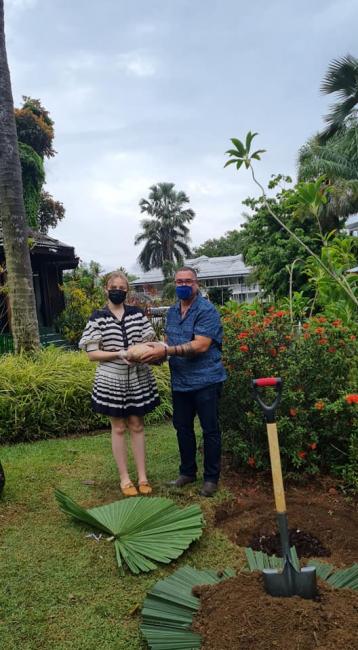 A generous donation was made to the SPGA under the umbrella of the Ministry of Agriculture, Climate Change and Environment of Seychelles whereby, 5000 microchips were donated by Parco Natura Viva Zoo located in Italy. These microchips will be directed towards the ongoing Giant Aldabra Tortoise Census within the protected areas, as well as those with individual owners. Further to the donation, H.R.H and the delegation proceeded to planting two Coco de Mers (the largest seed in the world) in the SPGA managed National Botanical Garden.
One of the highlights of the Princess Theodora's visit was the signing of an agreement between the Green Teen Team Foundation , SPGA and Parco Natura Viva. The agreement reiterates the strong partnership and collaborations between the 3 organisations, all working towards goals and activities of common interests in the field of wildlife, research and education.
The final leg of Princess Theodora's visit was her trip to the Curieuse Marine National Park. Accompanied by SPGA CEO, Mr. Allen Cedras and the Principal Secretary for Environment Mr. Denis Matatiken, the delegation enjoyed a tour of the island and saw for themselves the outstanding beauty of the marine park. Further to the visit, weighing scales and all of its components for both adult and baby tortoises were also donated to SPGA. These will in turn help with the nursing and caring of the Giant Aldabra Tortoises. When accepting the donation, Mr. Cedras stated that "SPGA is very grateful for having received such from H.R.H and the team. I am sure that the scales will enhance and facilitate the work of our rangers and park officers for monitoring and research purposes".
Image