Coral Planting In The Curieuse Marine Park
Coral Planting In The Curieuse Marine Park
23rd May 2022
SPGA recognizes the importance in conserving and managing the rich biodiversity of Seychelles, as well as ensuring that locals and tourists alike are aware and educated on the important work which is undertaken by SPGA to ensure the safekeeping of Seychelles' Marine Protected Areas(MPAs). It is with such passion that SPGA spearheaded a coral planting as a means to celebrate the International Day for Biological Diversity in the Curieuse Marine Park.
This year's Biodiversity Day celebration focused on the theme "Building a shared future for all life". The theme aims to continue building momentum and support for the post-2020 global biodiversity framework to be adopted at the upcoming UN Biodiversity Conference #COP15.
Image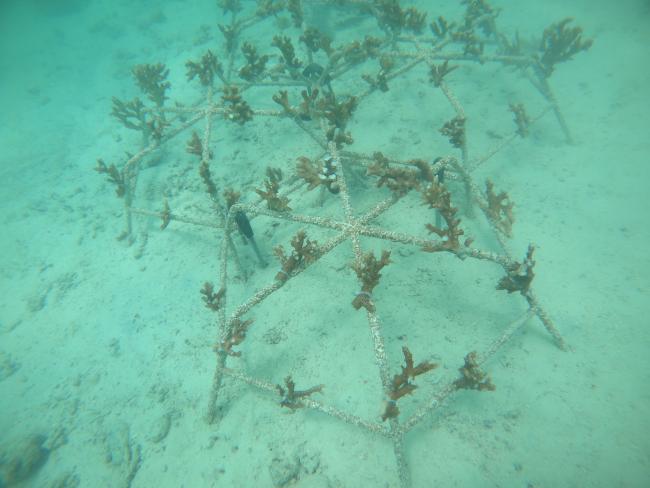 On Sunday 22nd May, a group of SPGA scientific divers, park rangers and officers, and the island manager Mr. Anto Suzette joined with representatives from Raffles Hotel, to plant corals on the reef. Raffles Hotel on Praslin, borders the Curieuse Marine Park, thus it was only fitting to seize this opportunity to further strengthen SPGA's relationship with the marine park stakeholder. Although moments of rough seas, the participants departed Anse Takamaka Beach determined and hopeful to have the corals planted. Participants were brief by SPGA scientific diver, Ms. Aishah Fanchette on how to handle the corals and how they must be attached to the frame.
The Coral Reef Restoration Project which began in 2020, works at reducing the impacts of climate change on local communities and coral reef-dependent economic sectors in countries like Seychelles, by implementing coral reef restoration with thermal tolerant corals as an adaptation to climate change. Over the course of the Restoration Project SPGA plans to restore 1ha of coral in the Curieuse Marine National Park. The 1ha will restore the reefs along Baie Laraie, Anse Papaie, Grand Anse. SPGA plans to propagate around 3-4 thousand coral fragments per year in five sea-based coral nurseries.
Image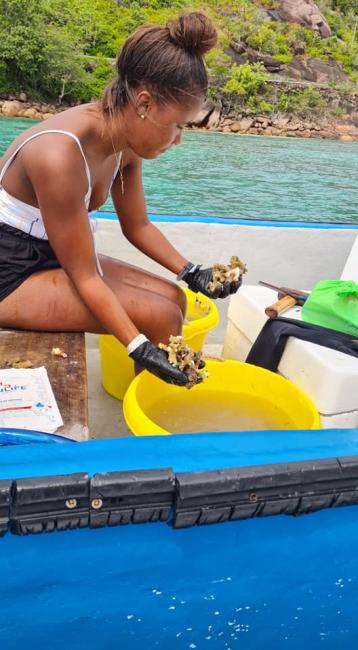 So far, three coral nurseries have been set up by the SPGA team. The three coral reef nurseries have been established in front of Anse Papaie, which have been filled with a total of 1,800 coral fragments, mostly Acropora and Pocillipora species. The team have in the past tested coral out-planting techniques which were made with bio-degradable materials such as bamboos, casuarina and coco plum.
A new technique was utilized for this special day, whereby 4 metal structures named "reef stars" were placed on a sandy area of seabed along the reef which had been identified by the divers. Once firmly secured planting began, with a total of about 100 corals planted after the approximately 30-minute dive.
Image
SPGA extends its deepest thanks to Raffles Hotel for partnering on such an important activity, which will surely enhance the biodiversity of the Curieuse Marine Park which is loved by visitors. SPGA will continue to monitor the corals which surround the Curieuse Marine Park and all other marine protected areas to ensure they are thriving.