Veuve Special Reserve Receives a Special Donation from MCB Seychelles
Veuve Special Reserve Receives a Special Donation from MCB Seychelles
7th March 2022
Officially opened in 1982, and currently under the mandate of Seychelles Parks and Gardens Authority (SPGA), the Veuve Special Reserve on La Digue is home to the endemic, Seychelles Black Paradise Flycatcher. Through its abundant trees and rich insect population, the Special Reserve provides a protected breeding and feeding habitat for the Flycatcher.
To mark World Wildlife Day MCB Seychelles showed its support for the protection of the Veuve through a donation of SCR10,000 towards the Special Reserve. The donation ceremony was held on Friday 4th March in the presence of the Bank Officers and representatives of SPGA. A cheque was handed over by the Managing Director, Mr Bernard Jackson to Ms. Isabelle Ravinia, SPGA Business Development and Marketing Officer. During the ceremony Mr. Jackson highlighted MCB's continued support to the protection of the unique ecosystem and species of our islands, in this instance the magnificent Veuve. These efforts are clearly reflected on the Reserve of La Digue as well as in the numerous protected areas under the oversight of SPGA.
Image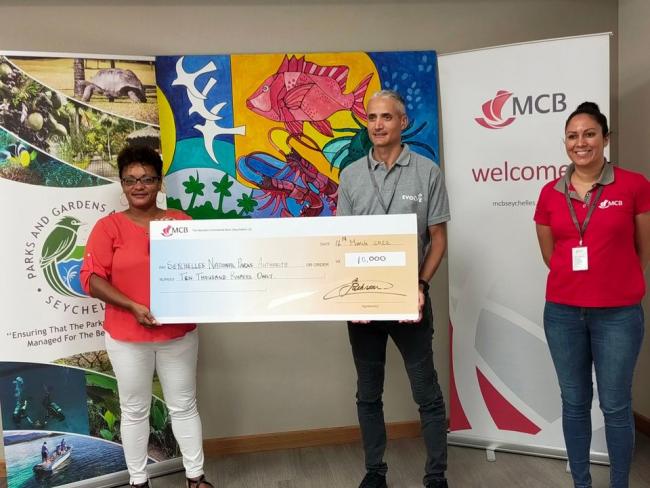 The donated funds will be directed towards boosting the promotional efforts to encourage more visits of the Special Reserve which will raise public awareness of ongoing conservation efforts. A draw was carried out during the ceremony to designate the winner of a Facebook quiz organized by the bank for the World Wildlife Day. Ms. Rebecca Essack was the lucky winner of a guided tour of the Veuve Special Reserve offered by SPGA.
SPGA expresses its warm gratitude to MCB and invites its representatives to visit the Reserve to observe the ongoing conservation project. SPGA welcomes any form of support and donations from organizations and individuals, willing to contribute towards better protection of the sites under its mandate. For more details on ongoing projects of the SPGA, representatives can be reached on 4225114 or via the social media platforms.