SNPA joined India in it's mega celebration of 75 years of Independence on World Nature Conservation Day
SNPA joined India in it's mega celebration of 75 years of Independence on World Nature Conservation Day
21st August 2021
SNPA and the Indian High Commission in Seychelles yesterday planted 75 endemic palms (Deckenia nobilis) locally known as 'palmis' in the Morne Seychellois National Park at Grand Anse. It was the CEO of SNPA Mr Allen Cedras and Indian High Commissioner in Seychelles, General Dalbir Singh Suhag who had the honour of planting the first two palms. The 75 trees planted by SNPA staff and the Indian Community symbolizes 75 years of India's Independence.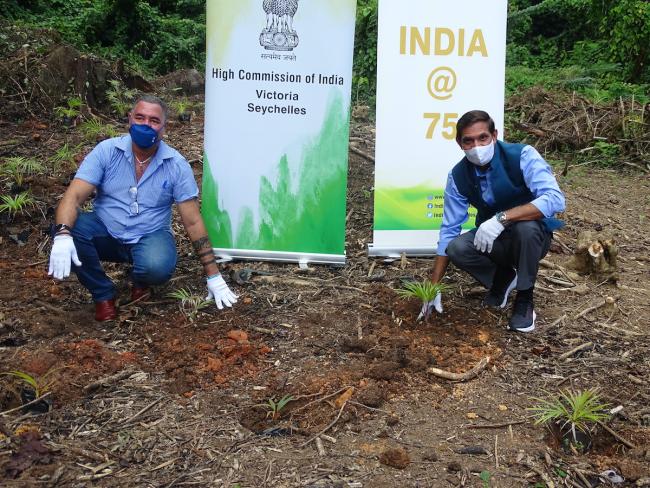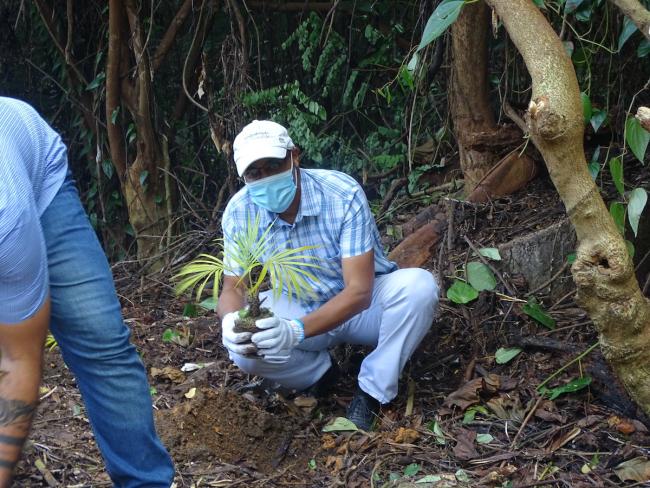 SNPA has in the past collaborated with the Indian Community on numerous tree-planting drives and to do so during the mega celebration of one of the world's greatest Nation-India, is a truly great honor. SNPA joins the mega celebration in the best way it can by planting trees on World Nature Conservation Day. The day is celebrated worldwide on 28th July each year to acknowledge that a healthy environment is the foundation for a stable and healthy society. The planting of the 75 endemic plants would bring varied benefits to nature and the country. It would help with conservation of the island's unique biodiversity, the palms would provide habitats to animals, and they would shade the land, prevent soil erosion and help in combatting climate change.
In his speech delivered at the SNPA's Forestry Office, not far from the planting site, the High Commissioner spoke about the importance of conserving nature.
"Both India and Seychelles share a love and reverence for the natural world i.e. forests, rivers, wildlife and seas and there is a common feeling against all sorts of exploitation of nature. Indian philosophy and lifestyle have long been rooted in the concept of co-existence with nature. Conservation is ingrained in the Indian ethos, not just in tradition-bound villages, but even in urban areas".
 He mentioned the massive tree-planting programme that India is undertaking. He explained how Indians are nature-loving people. High Commissioner also talked about the various contribution that India is making towards the Seychelles' environment, such as the large investment, they have made in solar panels for Government's buildings. During the ceremony, General Dalbir Singh Suhag donated COVID-19 relief supplies of masks, gloves, and hand sanitizers to SNPA. The Indian Association of Seychelles also donated pressure washer and extendable ladder.
"At SNPA we welcome all the support we can get. Let me reassure the embassy and Indian Association that the equipment donated today would be put to great use by our staff". Explained CEO Cedras. Mr Cedras also expressed support of the authority for future collaborations
The activity was organised as per the Public Health Authority current guidelines vis-a-vis the COVID-19 pandemic.