Seychelles National Parks Authority launches new On Line Payment System
Seychelles National Parks Authority launches new On Line Payment System
25th April 2021
Visitors to five national marine parks in Seychelles, will, as of 3rd May 2021, be able to purchase their entry tickets on line. This is the latest move in the Seychelles National Parks Authority's strategy to ensure a more efficient payment system is in place in order to maximize revenue.
 The national parks in question are Curieuse, Port Launay, Baie Ternay, Ste Anne and Ile Coco Marine Parks. All of the five parks are managed by the Seychelles National Parks Authority (SNPA), which has the responsibility to ensure their upkeep and management as well as oversee research work and conservation projects.
 Visitors are now able to purchase their tickets online, on the SNPA website, before their arrival in Seychelles. The online system also provides information about the parks which can help visitors decide which parks they would prefer to visit.
Image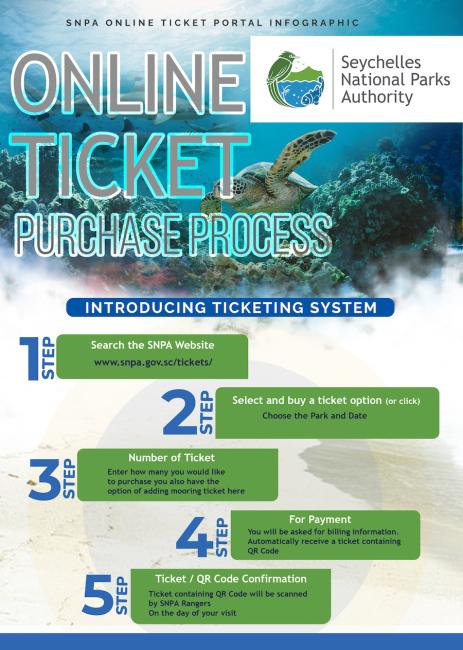 The system is straightforward and similar to most online transactions. Upon completion of their purchase, visitors will receive a confirmation email along with a copy of their ticket containing a QR code, which they will have to produce (by print or on their phone) upon entry into any of the five parks.
 The SNPA is setting up the following designated points for this verification to take place in all the parks.
Ste Anne Marine Park: SNPA Boat
Curieuse Marine Park: Curieuse Island
Ille Cocos Marine Park: SNPA Boat
Baie Ternay and Port Launay Marine Parks: SNPA Boat
Electronic tickets can also be purchased at the following sites and will also be verified when entering the parks. These would be sold using the Kiosk device, a smart device which will provide SNPA with up-to-date data on ticket sales.
Mahé: SNPA Office at Orion Mall
Praslin: SNPA Office at Fond Boffay
La Digue: At Veuve Reserve
Image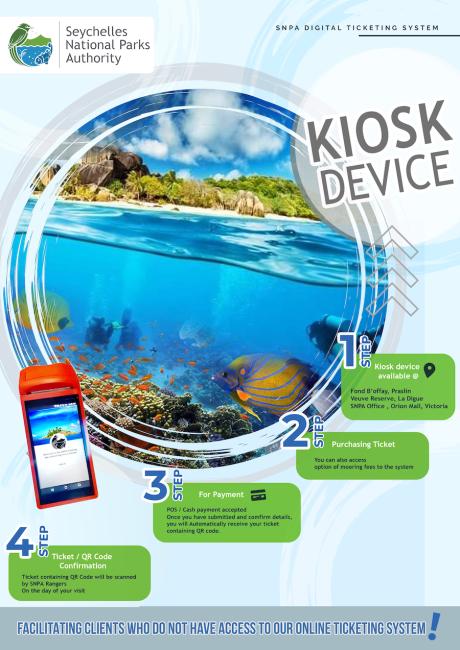 Currently, visitors are only able to purchase tickets while they are in the marine parks. Boat operators also have the option of purchasing tickets for their clients from the SNPA in advance which they issue to SNPA rangers who collect the tickets and funds at sea.
 Research carried out have confirmed that significant revenue is lost annually with this particular method. Boats are often missed and at times, SNPA rangers face challenges with certain vessels at sea when it comes to making the necessary payments. The new system will flush out such shortcomings and ensure that the revenue generated is collected. 
 Rangers have conservation duties which they have been unable to carry out effectively due to their hours having been consumed by daily patrol and chasing up after vessels for payment.
The online payment system is expected to redress these issues by streamlining the purchase process and freeing up their hours to dedicate to their conservation duties. Furthermore, and extremely relevant to the pandemic era the world is facing, is the omitting of the exchange of cash between visitors and SNPA rangers. The online payment system adds another layer of safety for both SNPA's visitors and rangers.
 The terms and conditions provide for standardized rules for all parties and also puts the onus on the operators and their clients to ensure their tickets have been purchased and are verified upon entering the parks. Legal action will be taken against any visitor, vessel or boat operator who doesn't comply with these terms.
 SNPA has, over the years, operated from funds budgeted from the Government to carry out its mandate. Financial autonomy has brought about more flexibility to fund research work and carry out more and diverse conservation projects. Each park will, by the end of 2021, have its own management plan. The idea behind the plans is to protect and conserve the identified values of each park while providing for reasonable opportunities to access and make use of the area for eco-tourism, education, recreation and scientific purposes.
 The online payment system, which is being funded and supported by the GoS-UNDP-GEF PA Finance Project, is another development gearing the SNPA to operate effectively within a financial autonomous framework. Visitor satisfaction and experience is an integral element in this framework. To ensure this, simply put, the SNPA needs to secure all the revenue possible so that it can continue to improve its services and products for its visitors.